What is San Giorgio Lasagna Noodles?
San Giorgio is a food brand that's well-known for producing pasta, including lasagna noodles.
San Giorgio Lasagna noodles are one of the most popular pasta foods from the brand, and are commonly found in grocery stores in the United States.
The lasagna noodles are wide and flat, cooked in layers, and require some experience to make delicious lasagna noodles. The noodles are typically made with durum wheat semolina and water.
Ingredients to make San Giorgio lasagna Noodles
To make San Giorgio lasagna noodles for your breakfast or dinner, you would need the following ingredients for one serving.
1 pound of San Giorgio lasagna noodles
1 pound of ground meat. Make sure the bones are removed
1 onion that's already diced
3 cloves garlic, minced
2 cups of tomato sauce
2 cups of cottage cheese or ricotta cheese
1 egg to add to your cheese
1/2 cup of grated Parmesan cheese
2 cups shredded mozzarella cheese
Salt and pepper to taste
Freshly chopped basil leaves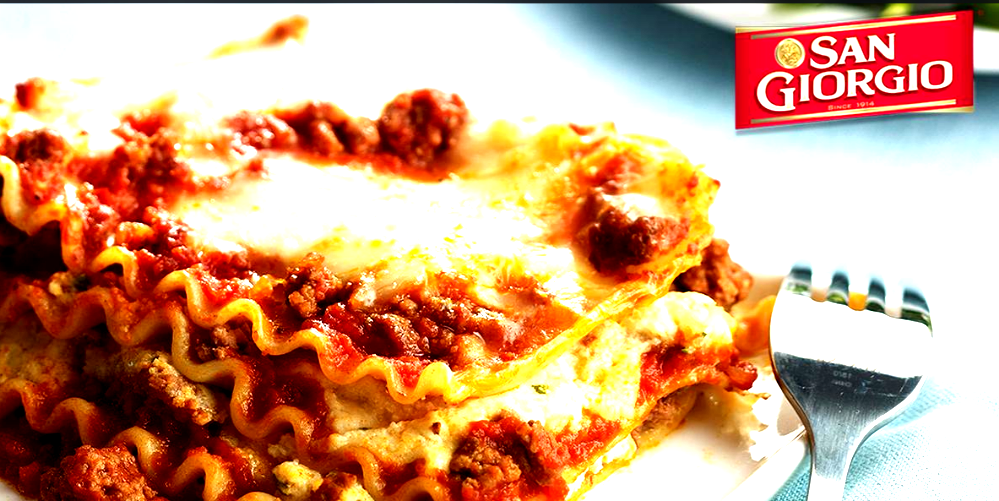 San Giorgio lasagna Noodles Recipes Step by Step
To make lasagna with San Giorgio noodles, you would typically first preheat your oven to 375°F before you start to bake your noodles.
You should cook your lasagna covered in the oven for 35 to 40 minutes under 375°F temperature, then uncover it for another 10 minutes in the oven, and when it's done, set it aside.
You can also try the Ina Garten method or noodle trick by soaking your lasagna noodles in hot water for about 20 minutes, draining and continuing with filling.
In a large skillet, brown the ground meat over medium heat until no longer pink. Drain the fat.
Add your diced onion and garlic to the skillet and cook until the onion is translucent.
Add your tomato sauce to the skillet and simmer for another 10 minutes.
Bring out your mixing bowl, add your ricotta cottage cheese, Parmesan cheese, salt, and pepper, and smash your egg into it to bind them together.
After that, bring out your lasagna and start to layer the cooked noodles with your desired filling (at least 3 layers or more depending on your sauces).
Use at least a 9×13 inch baking dish and spread a thin layer of the tomato sauce mixture in the base of the dish.
Place a layer of the cooked or baked San Giorgio lasagna noodles on top of the sauce, slightly overlapping them.
Spread a layer of the ricotta mixture over the noodles.
Sprinkle shredded mozzarella cheese on top of the ricotta mixture.
Repeat layers of sauce, noodles, ricotta mixture, and mozzarella cheese until all ingredients are used, ending with a layer of mozzarella cheese on top.
You can continue layering the noodles and filling until you reach the top of your baking dish.
Cover the baking dish with foil and bake the lasagna in the oven for 25 minutes or until it is hot and bubbly.
After that, remove the foil and continue baking for an additional 25 minutes, or until the cheese is melted and bubbly.
Let the lasagna cool for a few minutes, then sprinkle chopped fresh basil over the top.
Serve hot, and enjoy your delicious San Giorgio lasagna noodles with your friends and family.
Conclusion
San Giorgio lasagna noodles are a popular option for making homemade lasagna.
They are often used to make the popular Italian dish, lasagna, which consists of layers of pasta, meat or vegetable filling, and cheese, baked in a tomato sauce.