Sesame oil, when extracted through the cold-pressed method can be rich in vitamins and omega fatty acids.
The organic sesame oil is best used for both skin and hair treatment.
The high content of polyunsaturated fatty acids or vitamin A and E in sesame seed oil help protect hair against environmental influences.
The sesame seed oil has antioxidant and Vitamin B, which has hair darkening properties.
The high amount of vitamin B sesame seed oil is responsible for the improvement of grey hair into black.
It is also a rich source of vitamins like A, D, E, and K, and minerals like calcium, Magnesium, and Iron.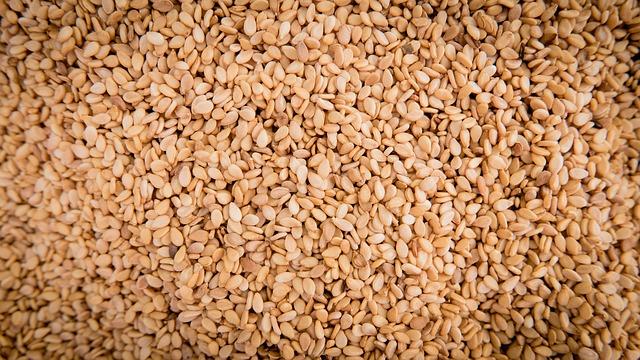 How to Apply Sesame Oil for Hair
The black sesame oil can help against hair removal and improve growth.
To apply sesame oil on your hair to make it shine and thicker, the oil should be rubbed in the lengths and tips of the hair.
The oil should be well distributed on the hair, and leave it for between thirty minutes and two hours.
Although there are no pronounced side effects of using sesame oil as a hair treatment, however, you should use it once or twice in a week to maintain healthy hair.
Toasted sesame seed oil should not be used on the hair, it has less or no result because most of the valuable ingredients are lost during extraction processes.
If you would like to intensify the effect, you should wrap a pre-warmed towel around your head.
After the aforementioned period, simply wash the hair with a mild shampoo.
The hair will be clean and networked properly.
You will be able to use a comb on it easily even with hair with high volume.
Sesame Oil for Hair Benefits
Sesame seed oil can be used to prevent hair fall and promote thicker hair growth.
There are reviews from people who have purchased the organic sesame oil to improve grey hair and hair removal, especially among the seniors.
Sesame oil has antibacterial properties and provides the scalp with essential nutrients.
If you consume sesame oil and foods that are rich in vitamins and minerals and also use the oil regularly as a hair treatment, the effects will be felt better.
Sesame oil does not only help hair growth, it also prevents dry scalp and thus also against dandruff.
Dry scalp and dandruff can make you lose a high volume of hair within a few months if not treated.
Sesame oil, when used with castor oil, it can prevent the problem, prevent the hair from the negative effects of environmental influences.
You can also mix sesame oil with lemon juice, egg, honey, or natural yogurt for home remedy hair treatments.
Conclusion
Sesame seed oil enhances blood circulation in the scalp and penetrates the scalp to supply nutrients to the hair follicles and shafts.
Therefore, sesame oil can help your hair regrow and become thicker, shiner, and darker.
Sesame oil can be used with most hair oils like olive oil, almond oil, coconut oil, etc.