Home Improvement in Pregnancy
During pregnancy, especially in the third trimester, many women start to have a desire to decorate their home before their baby arrives. More likely than not, the development of nesting instincts.
Every mom wants her house to be sparkling clean. Not only that, the family as a whole is expecting a new member, and that means there's a need for readjustment to accommodate him.
How to readjust your home setting for a new baby?
For everything to be in its place, you should prepare everything necessary for your future baby.
First, you should decide on the crib sets for the baby. Are you planning to lay your baby with you in bed, or would you prefer to lay down in their home bed?
In the case of the latter,  you should get a crib in advance and position it in a way that you can easily access it at any time.
Don't forget the fact that you will need a specific space for swaddling and changing your baby's clothes,  so you should consider this in advance, what is better to purchase a specific changing table, all flip-top dresser. Believe me, you won't regret it.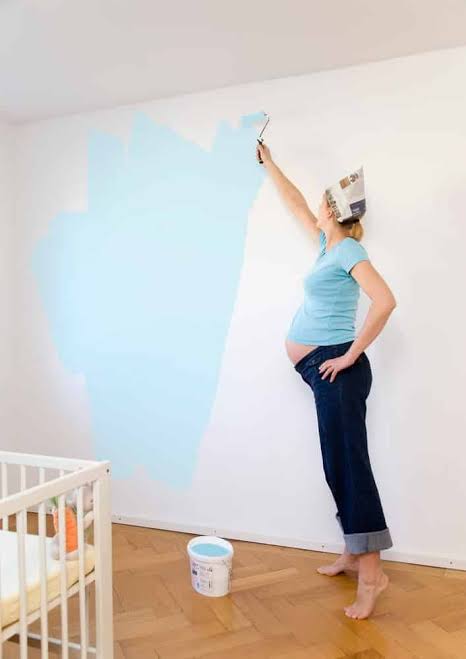 Risks and Safety in Home Renovation While Pregnant
If you are eager to renovate your home, think about which complication you will have to face first, and only then get down to work.
Here are some rules that we have to protect you and your unborn child.
You should avoid paints that contain a certain amount of lead and Mercury, which are extremely dangerous during pregnancy.
Inhaling paint fumes can lead to serious consequences for the fetus, such as mental retardation, seizures, and kidney and liver diseases, among others.
In addition, if you are prone to allergic reactions, inhaling paint fumes and dust can only make allergies worse.
Therefore, it's best to know that the idea of painting is inappropriate entertainment for expectant mothers.
Also, you should not lift heavy objects while pregnant. It's contradicted during pregnancy.
Lifting something heavier than 4.5 kg may increase intra-abdominal pressure, and pressure on the uterus and pelvic floor, which can increase the risk of the pregnancy getting terminated.
Conclusion
Renovating your home can be stressful, and it's known that stress can negatively affect mother and baby, and also the baby's behavior after birth.
So in the end, it's up to you whether to redecorate your home or not.
Sooner or later, you'll find your little artist's works of art on the walls and furniture, and even in places you wouldn't have imagined. And after that, it'd be hard to imagine that the house had been recently done up.