What is Pit Boss Pellet Smoker?
Pit Boss is a US brand that manufactures a range of pellet grills and smokers to smoke, roast, bake, braise, grill, or griddle your meats and foods.
It ranges from portable charcoal pellet grills for indoor and outdoor use, to Pit Boss tabletop pellet grills, woodpelletsts, fire pit smokers, gas grills, griddles, electric smokers, and combo grills.
Pit boss grills come in both vertical and horizontal smokers, different sizes, and are used to BBQ your meat, and cook your food.
These smokers are known for their versatility and convenience in cooking a variety of foods such as poultry, pork, beef, seafood, and veggies.
Specs of Pit Boss Smokers
You can get the natural wood smoky flavor of your food. You can choose from various types of pellets to get different flavors in your meat and vegetables.
You can control the temperature at which you cook your food, allowing you to set and maintain precise cooking temperatures.
Some Pit Boss smoker models can be controlled on your mobile app, so you can adjust the temperature right on your smartphone.
Pit Boss smokers are versatile and multipurpose. You can use it for grilling, smoking, roasting, baking, and more.
They often have large cooking surfaces, making them suitable for commercial use such as in ceremonies to cook meat for guests.
Pit boss grills have an auger system that automatically feeds pellets into the firepot to maintain the desired temperature. This feature makes them user-friendly, especially for people who are new to BBQ.
Pit Boss is a big name that offers a wide range of grill sizes and styles to choose from, including portable models, vertical smokers, and larger grills suitable for backyard cooking.
When you compare Pit Boss grills with the competitors, their products are more budget-friendly without sacrificing quality.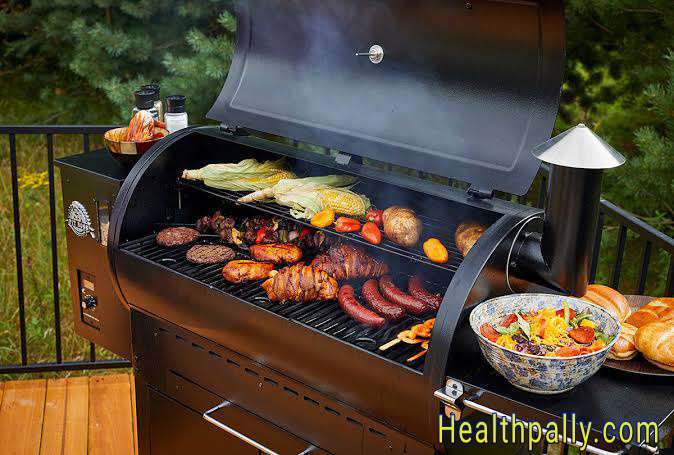 How to Clean a Pit Boss Pellet Grill?
You must clean your Pit Boss pellet grill regularly to maintain its shelf life.
There are tens of Pit Boss smokers in different designs and materials, therefore, I will only offer general ideas, and not how to clean a particular grill product of the Pit Boss brand.
First, the grill is made of metal, and it can be very hot while using it, and some minutes after use, so you should allow it to cool before you start cleaning and prepare it to store for next use.
Once your grill is cool, remove the ash cup and clear out the ash from your Pit boss pellet grill. You should clean the inside of your Pit boss smoker every time so dirt does not pile up there.
If you have glass on your Pit boss smoker, then that is easy to clean with a damp cloth and dish soap.
The next thing is to clean the grates. To do this, simply remove the cooking grates and use a grill brush to scrape off the residue of the food.
To further deep clean your Pit Boss pellet grill, you can wash the grates with warm water and dish soap, and use a grill grate scrubber to clean tough stains.
Also, you should remove the grease tray and dispose of any grease. Clean it with a brush, warm water, and mild detergent or dish soap. You can also line the tray with aluminum foil for easier cleaning next time.
Don't forget to clean the drip bucket where excess grease is stored with brush, and water if possible.
If your Pit boss smoker uses a firepot, note that ash and also pile up here over time. Use a vacuum or an ash removal tool to clean it out.
To increase the lifespan of your grill, you should check the flame broiler plate, anger on Pit Boss vertical smoker, and also the grates, and grease any area that's needed to prevent rust.
You should also check the pellet hopper and clean particles or moisture you may find there.
Once you are done with the interior cleaning of your grill, you can now clean the body with your soap solution, and brush. However, you should avoid using abrasive materials or harsh chemicals that can damage the paint.
Now, wipe it with a clean dry cloth, and air dry before you keep it for next use. Also, you can dry the grill parts separately before you assemble them again and store them.