Psoriasis is a chronic inflammation of the skin that irritates the skin, itching, redness, and flakes on the skin.
Scalp psoriasis is when this skin inflammation occurs on the scalp and the forehead.
The cause of scalp psoriasis is not defined, hence, treatment is difficult, but it's an auto-immune problem.
The symptoms of scalp psoriasis are a dry scalp, red patches on your scalp, itching and burning sensation, and bleeding.
While there's no fastest way to cure scalp psoriasis permanently, you can use manuka honey to alleviate the symptoms.
Honey for Scalp Problems
Eating honey has many health benefits. You can also mix honey and essential oils like olive oil, coconut oil, or jojoba oil to manage scalp psoriasis symptoms.
Honey can be used as a hair mask to improve hair quality, dandruff, and shine.
Mix it well with one of the oils mentioned or with vaseline, leave for 20 to 3o minutes and wash to add moisture to your scalp, ease the itching, and stop the scaly patches from spreading.
Another way to heal scalp psoriasis naturally is to eat foods, fruits, and veggies that are rich in vitamin D. Exposure to sunlight can also help to ease psoriasis scales.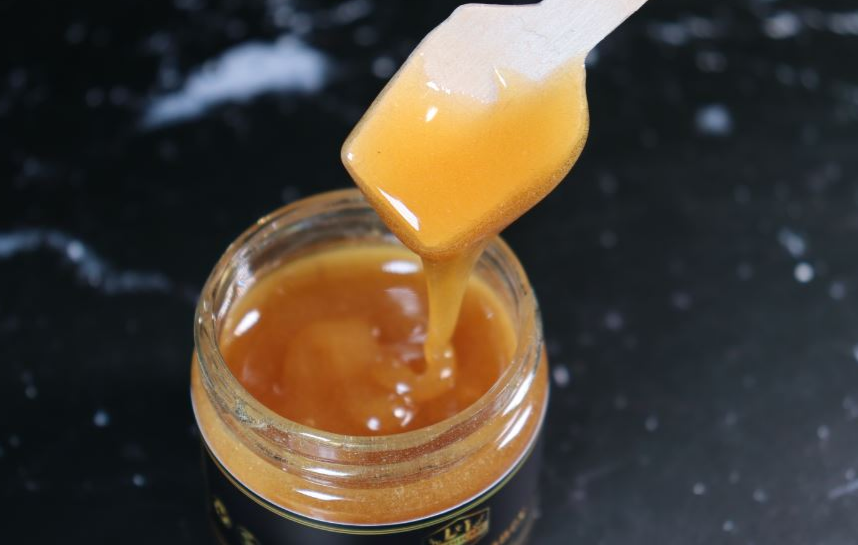 Manuka Honey for Scalp Psoriasis
You can use Manuka honey for hair, it's one of the best honey for hair, and one of the best scalp psoriasis treatments.
Manuka honey is used to treat dandruff, prevent hair breakage, maintain hair moisture, and improve hair volume and softness.
Manuka honey has worked in treating folliculitis decalvans, scarring alopecia like seborrheic dermatitis, and scalp psoriasis.
Manuka honey has more methylglyoxal, antioxidant, antibacterial, and anti-inflammatory effects than raw honey, and it can improve wound healing and fight infections.
How to use Manuka Honey for Hair
You can use manuka honey in your hair as a hair mask to help scalp psoriasis go away.
Manuka honey is thick in texture, so you'll have to mix it with cold pressed coconut oil, yogurt, aloe vera juice, baobab oil, or any other oil used to add moisture and maintain hair.
The manuka honey and oil should be in a ratio 2 to 4 and should be well mixed in a bowl. You can also use more than one natural oil mentioned above.
If it's too thick in this ratio, you can add a little water or heat for a few seconds to thin the consistency.
After that, wash your hair with shampoo if you've or add water to your hair to make it soft, and comb it.
Then, use a cutting comb to split your hair into 5 to 6 sections, and apply your manuka honey mixed with oil section by section.
Apply the manuka honey constituency from the scalp, and also deepen the hair ends into the manuka honey, and comb evenly.
Manuka honey is a home-made leave-in conditioner you can leave on your hair overnight. However, it's advisable to wash after 1 hour since the effects do not take a long period to manifest.
There are also manuka honey shampoos and conditioner you can purchase from the beauty store and use.
Conclusion
Scalp psoriasis can be very disturbing, and while you can manage the symptoms with topical therapy like the use of manuka honey, you should boost your immune system with regular exercise, and foods that have antibacterial, and anti-inflammatory properties.
Taking turmeric, eggs, B vitamins, coffee and others can be helpful in scalp psoriasis.